No, there's no recipe for wolf. In How to Cook a Wolf
by MFK Fisher, the metaphorical wolf is knocking at the World War II-era door as wartime shortages and financial hardship swept the country. This book is Ms. Fisher's answer to handling the rationing and lack of money and general malaise of a country at war with not just economy, but also grace.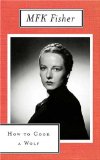 This is not my first of Fisher's books. Earlier this year, I read and thoroughly enjoyed her book, Gastronomical Me, which was essentially her memoirs. How to Cook a Wolf, on the other hand, is instructional in nature. Please don't think that makes it dull though! Fisher's voice comes through loud and clear in the writing.
MFK Fisher is nothing if not opinionated, and she has a certain way that she thinks things should be done. But she bosses you around with such eloquence and good humor that you really don't mind all that much. Plus, even she is not safe from her criticism. This edition of the book is a revision of what was initially published in 1942. The author herself revised the text in 1951, and sprinkled throughout in square brackets are her notes and commentary. It's entertaining (and admittedly a little distracting) to read a solid opinion by her 1942 self cut to shreds and declared unequivocally incorrect by her more worldly-wise 1951 self.
The chapters are seasoned with recipes that range from strange to practical to utterly divine. We learn how to make soap. We are treated to a very simple version of Boeuf Tartare. And if you really want to blush, she explains to you how to cure "bruised whithers." She describes it as a recipe "which has puzzled me for a long time and which need only be read by some master of the straight face to sound like the most involved suggestion."
One particularly odd-sounding recipe I came across in the book was for a Tomato Soup Cake. It sounded so strange in fact that I had to try it. The recipe as written in the book is remarkably devoid of details. I've fleshed them out a bit here (and make a few substitutions to use ingredients that I had on hand). Amazingly enough, though it sounds like it'd be kind of awful, the cake was actually pretty tasty. I treated it just like any other quick-bread I've ever made and froze leftover slices of it and reheated them for my breakfasts. Worked like a charm. The color and sweetness of the tomato soup concentrate remain. The tanginess and, well, soupiness is masked by a healthy dose of sugar and strong dessert spices. Would I make it again? Maybe one more time since I have a can of soup left over. Is it anything I'll ever go out of my way to make again? Probably not.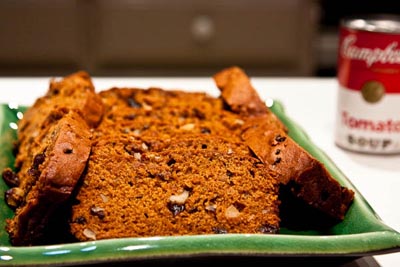 Odd recipes aside, the book provided a fascinating look into the mindset of a woman trying to survive the hardship that came to most Americans during World War II. I would imagine there are few of us that can relate to being judicious in our use of the oven as a means of conserving fuel or reducing electricity costs, or having to work within the gustatory limits of ration cards. Fisher talks of losing forever "the nonchalant extravagance of the twenties."
Some of Fisher's thoughts seem quite progressive for the 1940s (or maybe in some ways, it's a sign that we've come full circle and are wisely trying to eat more like our parents and grandparents ate). She encourages the eating of offal, fusses about the nutrient stripping that happens when good whole grain is converted into fluffy white flour, and even has the gall to suggest that it's not necessary to eat meat at every meal.
In the end, How to Cook a Wolf is an interesting period piece, a sometimes strange collection of recipes and advice, and a good reminder that we really don't have it as bad as we think we do right now.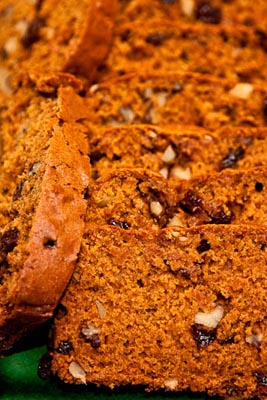 TOMATO SOUP CAKE
_adapted from How to Cook a Wolf_
3 Tablespoons butter, softened
1 cup sugar
2 cups (or about 8 ½ ounces by weight) all-purpose flour
1 teaspoon baking soda
1 teaspoon ground cinnamon
1 teaspoon ground allspice
1 10 ¾-ounce can tomato soup concentrate
¾ cup raisins
¾ cups chopped walnuts
Preheat the oven to 350 degrees (F), and grease a 9-inch by 5-inch loaf pan.
In a large mixing bowl, beat the butter and sugar together till smooth, light, and fluffy – 2-3 minutes.
Sift together the flour, baking soda, and spices into a separate bowl.
Alternately beat the flour mixture and the soup into the creamed butter until the cake batter is smooth.
Stir in the raisins and walnuts and pour into the prepared loaf pan. Bake until a cake tester inserted in the center of the loaf comes out clean – roughly one hour.
Allow cake to cool, cut into slices, and serve.