When I was younger, I had nothing but scorn for Valentine's Day. Pink and red were the predominant colors, and everything was fluffy and lacy – definitely not my speed. Even these days, I'm not sure you could pay me to go to a restaurant on the big day. However, I am more than happy to use it as an excuse to cook with fancy ingredients I wouldn't normally indulge in.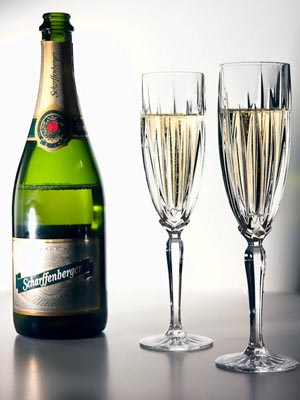 My justification for all this was that I could prepare for us a swank dinner at a fraction of the cost of eating out. We wouldn't order two bottles of wine when we're out, but I could justify it since we'd pay so much less by purchasing our own at a liquor store. Likewise, I managed to make it okay to serve both lobster and fancy steak in one meal because the cost of raw materials was so much lower than similar items at a restaurant.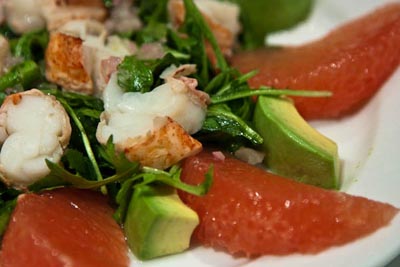 For our first course, we had a lovely Lobster, Avocado, and Grapefruit Salad. While the recipe calls for using a whole lobster, I punked out and worked with a couple lobster tails instead. Next time I make lobster (which, given our current budget, could be a while), I'll go full tilt and buy a live creature to dispatch and cook as required. I cooked the two four-ounce tails in a pot of boiling water seasoned with a bit of salt and a bay leaf for about five minutes. Then I removed them, let them drain and cool till I could handle them, and finally snipped and peeled the shell away as best I could.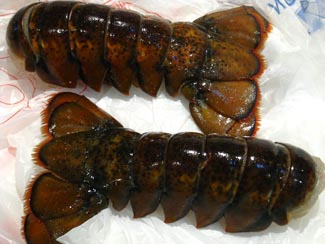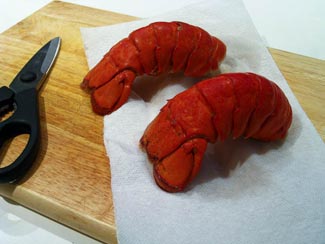 The lemony homemade dressing was the perfect backdrop for the various flavors and textures. Plus, it paired beautifully with our relatively dry champagne.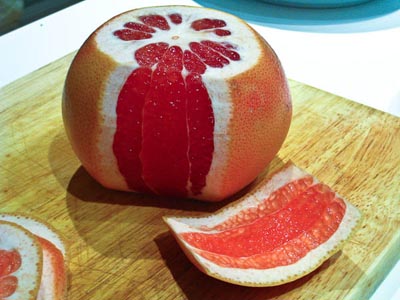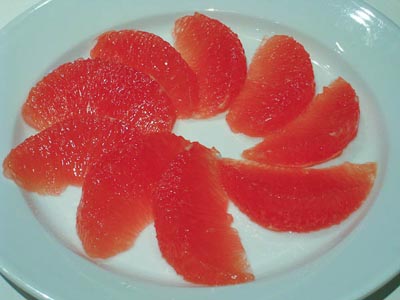 One of my new least-favorite cooking chores? Supreming citrus. To make supremes of the grapefruit, first all the skin was cut away, skin, pith included, taking care to cut away as little flesh as possible. Then each segment was carefully cut from the fruit just inside the membranes along which you'd normally take the fruit apart. At the end, I had a juicy handful of membrane and a beautiful little pile of perfect grapefruit slices (because I had eaten the ones that I might accidentally have butchered).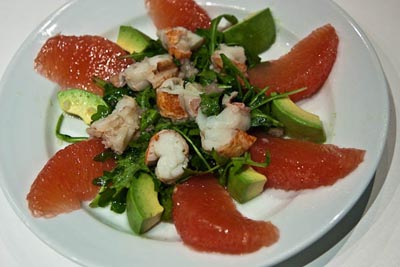 Next up was a simple supper of Steak au Poivre and Gratin Dauphinois. My Midwestern tongue and French don't get along terribly well (at least pronunciation-wise – flavor-wise, they get along just fine), but I can almost passably pronounce all the words in that meal.
The Steak au Poivre was adapted from a recipe in Julia and Jacques Cooking at Home
. I bought a very pretty strip steak (yes, just one) and split it in half to form it into the two steak portions for our dinner. Fortunately, when I explained what I wanted to do, the meat counter man kindly showed me all the cartilage pieces I wanted to remove before I tried to cook the meat. Each of these was sprinkled with salt and then coated in a crust of crushed peppercorns.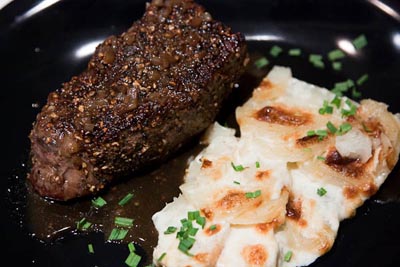 Here's the part where I blather on about my mortar and pestle. I love using it. Never you mind that I feel like the wicked witch of the kitchen when I crush things up in it to add to my simmering potion. Instead, focus on the relatively direct relationship between your spices (or herbs, or garlic) and you. You feel the seeds breaking down. You smell the incredible aroma of released oils. Plus, it can be a decent upper body workout if you get going.
I loaded my mortar and pestle with green peppercorns, black peppercorns, white peppercorns, and Szechuan peppercorns and mashed and pounded away till I had a multi-hued, roughly cracked pile of fragrant pepper. Were I to do this again, to maintain a relatively uniform texture I'd probably crush each type of peppercorn separately and then mix them together. Some of them were softer than others and broke down much more quickly than I'd have liked, but I had to keep at it to break up the rest.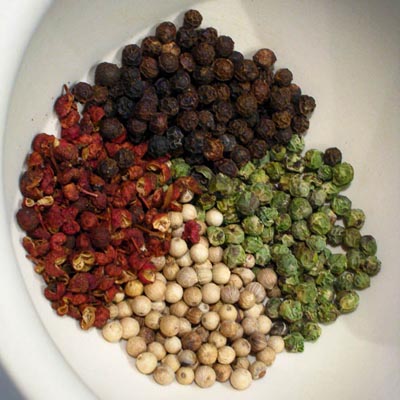 I've never had luck cooking a very thick steak on the stove top. So instead of following the advice the advice of the world famous French chef and the woman who brought French cooking to millions of American homes, I seared my steaks on the stove top then finished them in the oven. After setting the steaks aside to rest, a quick pan sauce of shallots, cognac, stock, and butter was made.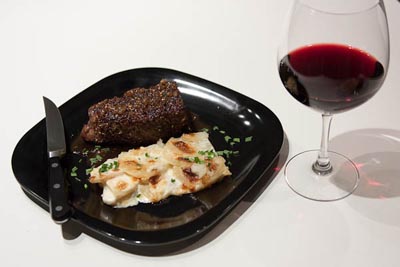 With this, I served the Gratin Dauphinois as described by Jeffrey Steingarten in It Must've Been Something I Ate
. The writing in this book is fantastic, but even if you aren't a reader, it's worth seeking it out for this recipe alone. His lengthy description leaves nothing to the imagination, and the results are exquisite (he tells you how many square inches of pan space you need thereby allowing the user to choose any sort of pan that reasonably fits the criteria – I was giddy with delight). In fact, not surprisingly, I enjoyed the potatoes more than the steak. Thinly sliced potatoes were baked once in milk steeped with garlic and pepper and then again with a pile of heavy cream. In the oven, the potatoes absorbed all the lovely milk and cream and browned beautifully on the top and a bit on the bottom as well.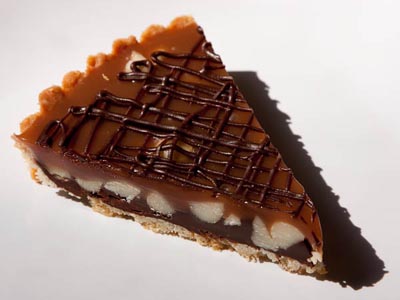 The meal was capped off with a tart I had prepared the day before. It's a dessert I had been wanting to make for a couple months, but simply found it too decadent to execute without a special occasion to blame it on. The Chocolate-Caramel Macadamia Nut Tart begins with a simple pie crust. Layered inside are chocolate ganache, Macadamia nuts, and homemade caramel. All this is drizzled with fine stripes of the ganache.
The tart was delicious. The chocolate and caramel naturally played well off each other and were nicely complemented by the slightly salty crust. Were I to make this again, I would try it with salted, roasted Macadamias. It seemed their wonderful, buttery flavor was overpowered by the surrounding sweetness and that the salted nuts would've better made their presence known (of course, they may also have made the tart too salty).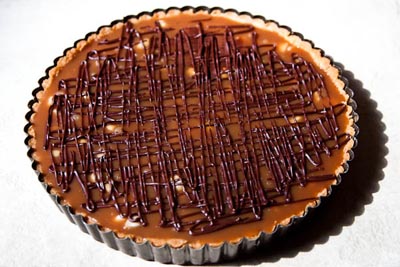 Also, I don't do a whole lot of pastry work, so I lack a proper piping bag. For this, I just used a plastic zip-top bag with a tiny corner nipped off. My advice to you (and the future me) is to use a heavier-guage freezer bag. When attempting to use a sandwich bag, there was a chocolate blowout that nearly ruined the pretty tart. Luckily, this was early in the process, so I scraped it off, dumped everything in a freezer bag and covered my mess with a delicate chocolate cross-hatch (who knew I could be delicate?!?).
All in all, Sean and I were both pretty pleased with our meal. And get this, even with the champagne and the high-end proteins, we figured we spent about $70 total (making some use out of items we already had at home). I know this is a lot, but had we gone to one of the restaurants that we love instead, we'd have spent much more than that. Plus, I had leftover gratin and baby arugula in the refrigerator the next day. So, for that evening, we ignored the pile of dirty dishes and enjoyed our feast.