After reading The Making of a Chef, in which Michael Ruhlman reports on life as a student at the Culinary Institute of America, I've had a hankering to actually learn the fundamentals. My knife skills really suck, so that's one thing I'm working on. But on the food side of things, I've also never managed to make a decent chicken stock. This time, I followed two suggestions: measure by weight instead of volume and use chicken feet.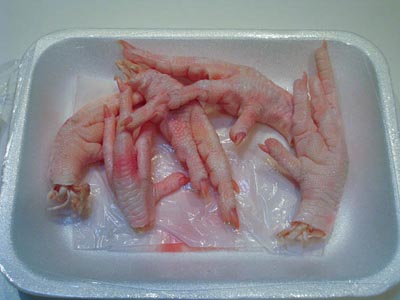 Yeah, I said chicken feet, but we'll get to those in a moment.
I've made chicken stock several times, almost always with acceptable but not outstanding results. My method had always been to dump bones and vegetables in pot, fill with water to cover, then cook for a few hours, skimming as I go. Then strain, de-fat, and serve or store. Admittedly, this method is not difficult, and most assuredly, the stock is still better than what you get out of a can, but I knew it could be better.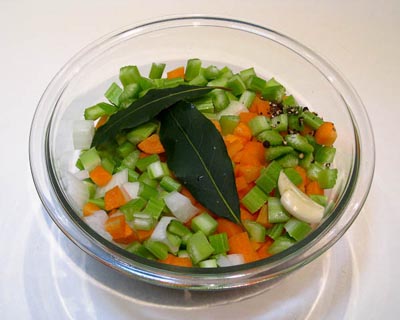 For the holidays, I received Ratio: The Simple Codes Behind the Craft of Everyday Cooking
(also by Michael Ruhlman) and with its stock-making discussion as a guide, began to think through a stock that would be based on weights instead of volumes.
Then I later stumbled across an article at The Nourished Kitchen extolling the virtues of stock made with chicken feet. Nutritionally, there are evidently many reasons chicken feet lead to a nourishing stock, but the one that really stuck out to me was that since chicken feet are almost entirely tendon, bone, and cartilage, they help to create a stock that gels nicely in the refrigerator once cooled – an indicator that the warm stock will have good body and consequently lingering flavor.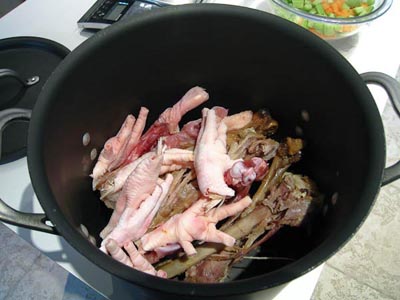 Since I have various bones and bits stuck in the freezer from all manner of cooking projects, I decided on a generalized poultry stock that would be fortified with chicken feet for added body. A quick trip to the Asian market (MT Supermarket for Austin locals) yielded a cellophane wrapped package of chicken feet.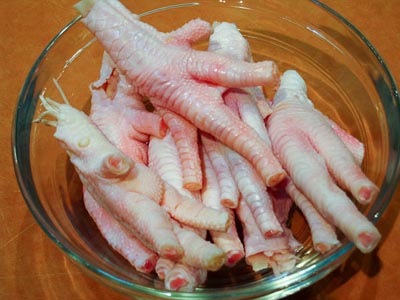 Per The Nourished Kitchen article, the feet need to be peeled and de-taloned before use (and she includes photos and instructions for this process). Fortunately mine were already peeled (as most of them are if sold in a market), and the talons were easy to cut off with a chef's knife.
Here were the amounts I used, following this ratio …
3 parts water : 2 parts bones : 1 part mirepoix (or other vegetables/seasonings)
About 2 ½ pounds of poultry bones, some cooked, some raw, some with meat on them, some bare
½ pound chicken feet, well washed and talons removed
4 ½ pounds cold water (72 ounces/9 cups)
12 ounces roughly chopped onion
6 ounces each roughly chopped carrot and celery
a couple smashed cloves of garlic
a couple fresh bay leaves
maybe ten or twelve whole black peppercorns, lightly crushed
![bones and water - beginnings of stock](/images/stockmeatybitscooking_small.jpg)
I added poultry bones (duck, turkey, and chicken were all represented) and chicken feet to an 8-quart stock pot and poured in the water. Next I heated it slowly on the stove top till it reached 200 degrees (F), removing the scum that rose to the top periodically. Then it went into a 180 degree (F) oven for about three hours. Finally, I added the vegetables and herbs, brought the heat back up to 200 degrees (F) on the stove top, then returned it to the oven for a final hour of cooking.
![strained stock](/images/stockstrained_small.jpg)
After that, I removed the bones and feet with tongs just to make straining easier. Then I carefully poured the stock through a fine mesh strainer to remove the vegetables. Finally, I strained it one more time through a flour-sack towel to remove some of the finer solids.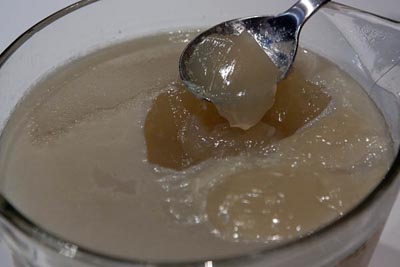 I didn't use it right away. Instead I cooled it to roughly room temperature then moved the stock to the refrigerator to chill completely. Once it had cooled to a beautiful gelatinous semi-solid, I used a spoon to scrape away the fatty layer on top.
I had about 2 quarts of stock when it was all said and done. The aroma, even when cold was one of poultry and bay leaves. Its flavor when warmed and lightly salted opened up to reveal a sweet edge from the vegetables and a mild tang from the garlic. My one apprehension is that the stock was more opaque than I might have hoped. It had sort of a dull, muddy appearance to my eye, and I'm not sure what step was mishandled to produce that result. Maybe I need to explore alternate straining methods.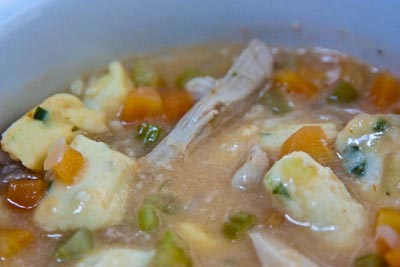 Immediately the next day, in homage to Ruhlman, I used about half my stock to make his lovely chicken and dumplings recipe, which fed my husband and I handily for several meals. (Have extra herbs lying around? Chop them up and add them to the dumpling dough for an extra layer of flavor in your chicken and dumplings.)