Alas, all good things must come to an end, and the same holds true of Chef Eric Ripert's wonderful posted menus. For the past three months, it's been fun to look forward to the menus coming online, hunting down the ingredients, and following the carefully constructed plan laid out for dinner party success. In November, we enjoyed kabocha soup and leg of lamb. December brought a wonderful cocktail party menu, resplendent in its easy-to-prepare finger-food glory. With the theoretical cold of winter upon us, January's menu is filled with comfort-food delights to warm us up and bright flavors to remind us of warmer times.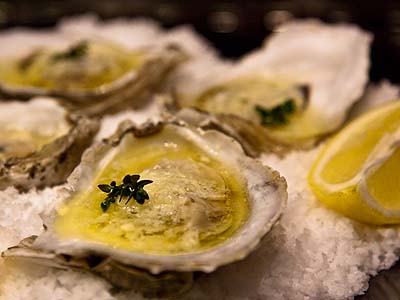 My husband Sean and I decided, after spending a few weeks together remodeling the bedrooms in the house, that we would make our dinner social a two-person affair. Given that, our cozy winter dinner was scaled down and extra cozy (not to mention more cost effective).
We began simply enough with Baked Oysters with Fresh Thyme and Garlic. This was easily my favorite dish of the night, and unless you count the oyster shucking (which very nearly resulted in us not eating oysters), it was essentially effortless. I picked up simple gulf oysters from my local Central Market and set about cracking into them. After unsuccessfully attempting to use a butter knife to pry open the hinge, I switched to a flat-head screwdriver. That seemed to do the trick (though it was still far from easy). They were baked with a dollop of garlic- and shallot-studded butter and a small thyme-sprig top-hat. One more thing: While I used Chef Ripert's dampened kosher salt trick for serving the oysters, I opted to use little foil rings to stabilize my oysters while baking.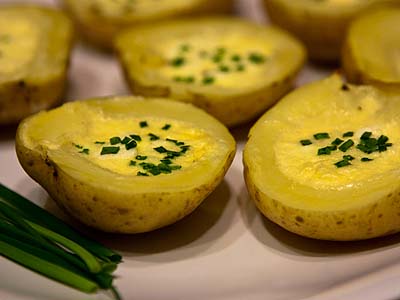 Potato Goat Cheese Royale were the second canape of the evening. Ripert compares them to twice baked potatoes, and I understand why the comparison is made, but these are very different. They're essentially potatoes with a savory, goat cheese custard center. Seriously. I assume that I don't have have to go on about how delicious these were? Mine benefited greatly from a light sprinkling of salt on the finished potatoes, but otherwise, they were heavenly.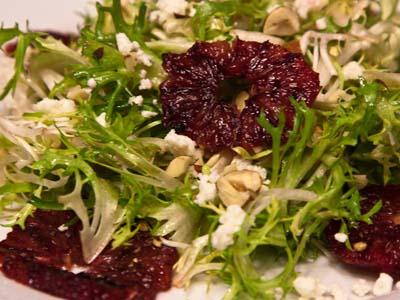 I was delighted to make a salad for the third course. I love salads anyway – they're generally nutritious, they're good for using up leftover ingredients, and they're easy to throw together. Ripert's salad is primarily frisee (a member of the same family as escarole). It owes a good portion of its flavor to the inclusion of blood oranges in various forms. First the frisee is coated in a brilliant pink-red blood orange vinaigrette. Then the salad is anchored by several slices of blood orange that have been roasted just until lightly caramelized. To balance the light bitterness of the frisee and the tang of the orange, the salad is topped with chunks of salty feta cheese and rich hazelnuts (which are also called "filberts").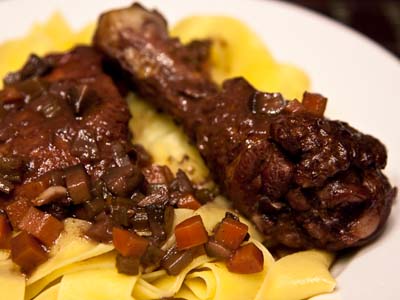 I'm certain that I should be a bit ashamed of myself, but I must confess that this was the first time I had ever attempted Coq Au Vin. It was also, interestingly enough, the first time I'd ever cut up my own chicken. Here's what I will say about the coq au vin – it is better the second day. I'm withholding absolute judgment till I can taste a proper French cook's Coq Au Vin, but as it stands now, I don't know that I'll ever make it again. The vegetables and sauce were rich and pleasant, but the chicken had an odd flavor – almost like only the alcohol flavor managed to absorb into the flesh. The sweetness that should have been provided by the vegetables seemed absent in the meat. I shredded the leftover meat and tossed it in the remaining sauce, and the next day's chicken was actually quite tasty.
I cannot praise the Lemon Tart highly enough. Lemon desserts are among my favorite, and this one was pure lemony indulgence. With an incomparably bright flavor, it fills one with thoughts of sunshine and big glasses of lemon aid. There are no photos of the lemon tart, but suffice to say, it's brilliant yellow was also a tonic for the drab winter surroundings.
There it is – the end of an era. Well, it's the end of an interesting exercise, at any rate. I will miss the monthly menus provided on Chef Ripert's site, but I'm happy for the foods and techniques I've been obligated to attempt in the course of preparing these feasts. I can now roast a leg of lamb, appreciate the subtle flavor nuances found in various winter squashes, and more or less successfully dismember a chicken. These are good experiences to have, and the three Ripert menus were a fine catalyst for those experiences.