After the success we had in preparing the menu from the Market Table Dinner Social last month, we decided to partake of chef Eric Ripert's Cocktail Party Dinner Social recipes as well. Just as it was last month, the planning steps, ingredient list, and recipes for both canapes and cocktails were obviously carefully thought out and supplied in easily-printable format from the chef's website.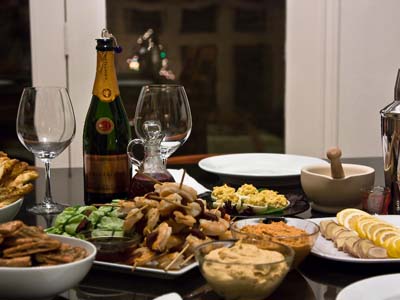 We had a tiny gathering – just us and another couple – but it was perfect. The canapes were pleasantly straightforward. Everything was reasonably simple to make. (That's not to say I didn't dirty an insufferable number of dishes. It's important to note that I was prepping canapes, cocktail ingredients, holiday cookies and candy, and fussing with sourdough starter all at the same time – it's no wonder my kitchen was a wreck).
The Spicy Parmesan Cheese Straws were my favorite to make (photo hopefully to be coming soon). Puff pastry was thawed and rolled thin. Then it was brushed with beaten egg and sprinkled liberally with a mixture of grated parmesan, crushed pistachio, cayenne, salt, and pepper. I took the extra step of gently mashing (is it really possible to gently mash?) the cheese mixture into the puff pastry before cutting it into strips with a pizza cutter and gently twisting each strip into a semi-decorative spiral. Once baked, the cheese straws puffed up into spicy, nutty, cheesy works of art. Adored by all, these cheese straws are nearly effortless – plus, they're easy to make ahead.
The Deviled Eggs with Smoked Salmon was my biggest surprise. I know this makes me a bad foodie (have I ever told you how much I dislike that word? I need a substitute), but I really don't like hard-boiled eggs. I made these anyway because I was hell-bent on making the whole menu. Turns out, they're really tasty. Using crème fraiche instead of mayonnaise to bind the egg yolk mixture was an inspired turn, and the addition of the smoked salmon was incredible. My fish-hating friend even loved them!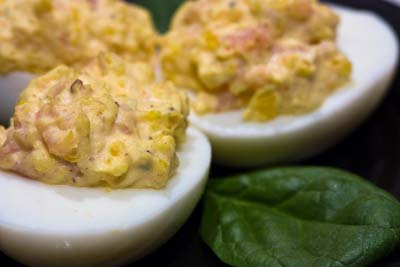 The Chorizo Stuffed Shrimp gets the award for most blood shed. I carefully peeled and deveined all fresh shrimp and carefully sliced my Texas cured chorizo (Aurelia's Chorizo, if anyone's interested). I had picked up bamboo skewers at the store and everything was progressing beautifully. The only issue is that my cured chorizo was very hard – delicious, but distinctly … sturdy. Knowing how accident prone I am (and because I had already been sampling the cocktails for the evening), I carefully pre-skewered several slices of chorizo. It didn't matter. On probably the second or third one, I embedded a shrimpy bamboo stake into the meaty part of my left hand. It hurt – even through the bourbon. After violent cursing and careful cleaning and dressing of the wound, I finished skewering my shrimp and chorizo by an alternate method that would allow me to not have to put quite so much force into my piercing. At the end of the day, it was worth it, the chorizo was wicked-spicy and was complemented exquisitely by the soft, sweet, perfectly-cooked shrimp. This may well have been my favorite canape to eat.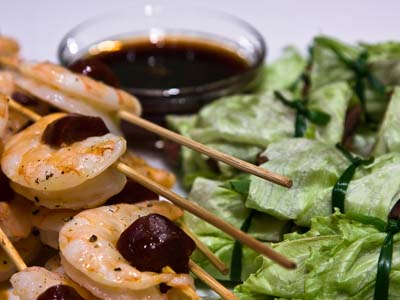 The Seared Beef Lettuce Rolls may qualify as my least-favorite to make (and yeah, I'm remembering the skewered hand). Searing the beef was fun. Trying to peel off the lettuce leaves without tearing 'em up was kind of trying. But what really threatened to push me over the edge was tying the rolls up with blanched chives. Don't get my wrong – the chives held the rolls together well, and the end-package was very pretty. But it seemed that no matter how careful I was with my chives, as I was gently cinching them down to secure the lettuce rolls, the chive would tear and I'd be left with a piece that was too short to use. In the end, there were a few rolls that went to the party chive-less. The accompanying dipping sauce was a Sriracha-laced concoction that woke up the taste buds and played very nicely with the cool lettuce and herbs.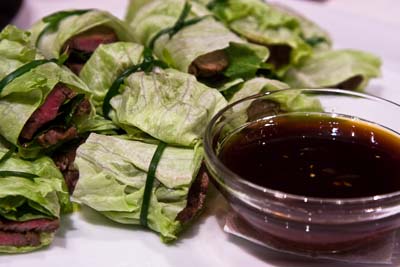 The Mediterranean Platter with Hummus, Roasted Pepper-Walnut Spread and Za'atar Pita Chips was subtle and filling. I will say that I have a favorite hummus recipe that I used instead of the good chef's recipe, however if you're sort of anti-tahini, then Ripert's version might be just the ticket for you. The roasted pepper-walnut spread was fascinating. The pomegranate juice doesn't so much stand out on its own as it enhances the sweetness of the roasted red bell pepper. The dip was creamy-smooth and the flavor was incredible. This was my first time to use za'atar, a middle-eastern blend of spices, herbs, and sesame seeds. While the flavor was subdued, the aroma for the za'atar spiced pitas baking was heavenly.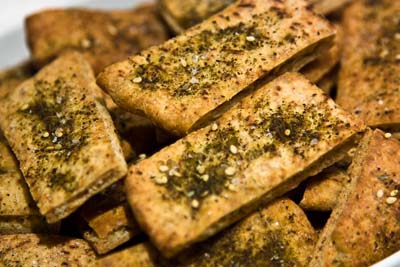 The Portobello "Fries" were pleasantly crispy, and the aioli was fun to make (my first time). Ethereally light and pleasantly lemony, the aioli worked well with the meaty portobellos. Turns out though that I'm really the only one who likes fried slices of portobello, so I had the pleasure of enjoying them all on my own.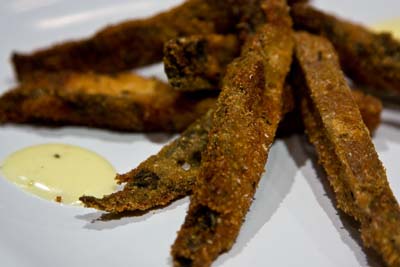 The cocktails were varied and fun. The prettiest was probably the Cranberry-Champagne Cocktail. It was a simple mixture of homemade cranberry syrup and champagne, but it's ruby-red color was festive and the flavor was fantastic. The spiced apple cider was a boon for the rum-lovers in our group. While the warmth of the spiced cider was pleasant, I expect it would have been more welcome had it actually been a bit colder outside (silly Texas). Finally, my favorite of the bunch was the Lemon Ginger Smash. I expect this surprises no one (at least no one who knows me very well) since it's made with bourbon and that is my spirit of choice (though I'll rarely say no to a good tequila either). First slices of lemon and fresh ginger were muddled with some sugar cubes and water. That mixture was then shaken with some bourbon and strained into a glass with crushed ice. It was sweet and tart and gingery and utterly delightful.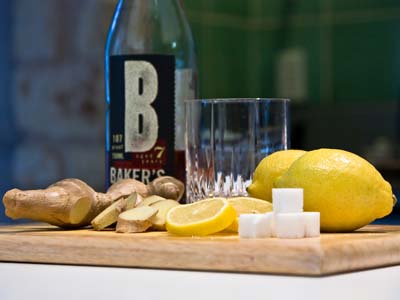 The meal was a success. Our friends left well-fed and full of holiday cheer. Over the course of the weekend, I slowly tackled my mountain of dishes and the kitchen is now more or less returned to normal (never you mind what normal is). There should be at least one more Ripert menu available for preparation in January, and I am highly anticipating that menu's release. So far, they've been wicked fun to prepare – bloodshed aside - and delicious to consume.