The only new vegetable our fourth CSA box brought was cabbage. The rest we had had before, and by this point, we've had way to much of some of them (cough … carrots … cough). But spring is just around the corner here in Central Texas, so I look forward to seeing what interesting things our next boxes bring.
![Contents of CSA box 4](/images/CSABox4groupshot_small.jpg)
Box Contents:
2 grapefruits
4 oranges
2 small cabbages (about 1 ¼ pound total)
big bunch of dill
small bunch of green garlic
small bunch of turnips (about 9 ounces with greens included)
small bunch of spinach (about 5 ½ ounces)
small head of bok choy (about 6 ounces)
bunch of collards (about a half pound)
huge pile of carrots (a little over 3 ½ pounds with the greens removed)
The oranges and one of the grapefruit were simply peeled and eaten as they were.
The turnip greens and the collards were used in the "Not Your Grandma's Collard Greens" recipe from the Homesick Texan. Vegetarians will love this recipe. A combination of peanut butter, chipotle chile, and vegetables is used in place of the standard bacon or ham hock. For the amount of collards and turnip greens that I had, I scaled the ingredient quantities down to a quarter of what are called for in the online recipe, and the results were delicious.
The other of the grapefruit was cut into supremes and served in a lobster-grapefruit-avocado salad that was part of our Valentine's day dinner.
With the cabbages and some of the carrots, I tried yet again to make a coleslaw my husband would be happy with. He requires a dressing that's creamy, sweet, and tangy in some sort of perfect balance that I hadn't previously achieved. This time, though, he seemed pretty happy with it. With all the cabbage above (minus cores, of course), about 6 ounces of shredded carrot, and a few tablespoons of minced onion, I added a dressing made of about 7 ounces mayonnaise, 3T sugar, 3T plain white vinegar, and a sprinkling each of celery seed, pepper, and salt.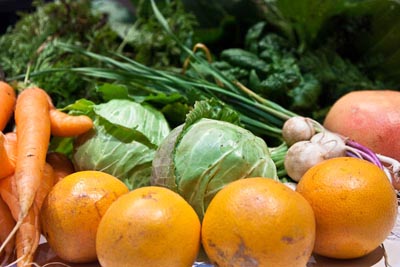 Some of the smaller carrots in the bunch and all the turnips were cut into largish chunks and sauteed in olive oil till they had begun to brown a bit then covered halfway with chicken stock and steamed till cooked through. Then, I salted and peppered them and tossed them with a small pat of butter. It took less than ten minutes.
With still more of the carrots, I made this recipe (minus the tomato sauce) for Carrot and Gruyere Timbales. I found their sweet-salty flavor interesting. I think Sean was sort of ambivalent about it.
With most of the dill, I made dill rolls and avgolemono soup. I really liked the soup, though Sean was nonplussed. The flavor was a bit on the mild side, but I enjoyed the lemon dill aroma and creamy texture. I used this recipe but added some diced roasted chicken thigh to bulk up the protein content. The dill rolls were fluffy and dilly, but could probably have used a bit more salt than the recipe I used called for.
The spinach was used in simple prosaic salad.
I used some more of the carrots to make Jamie Oliver's carrot cake (since I'd be the only one eating the cake, I took the liberty of leaving the icing off, though lime mascarpone icing does sound lovely). The carrot cake was fantastic, though it was too much for me, so I wound up freezing about half of it for later consumption. Speaking of Jamie Oliver, have you watched his TED talk about childhood obesity and food education? It's probably worth your time to check it out.
With the bok choy and the green garlic, I prepared a Serious Eats recipe for Stir Fried Bok Choy with Soba Noodles. This made for a great multi-flavored, multi-textured one-dish lunch.
And finally, I gave up on the rest of the carrots and after washing and peeling them, stored them in the freezer.