Sean in particular was excited about our third CSA box because it was meant to include Brussels sprouts – a particular favorite of his. Again I was pleased to note that in addition to our sprouts, the box offered several new items we'd not yet seen during our admittedly brief Johnson's Backyard Garden CSA membership.
![lettuce, spinach, and green onions](/images/CSABox3Group.jpg)
Box Contents:
1 purple kohlrabi
3 grapefruit
4 oranges
1 tangerine
several small hunks of broccoli (about 5 ounces)
a big stalk of Brussels sprouts
baby spinach (about 5 ounces)
several small heads of lettuce (about 3 ½ ounces total)
large bunch of green onions
small bunch of green garlic
little bunch of turnips (that I forgot to weigh – sorry!)
about 2 pounds of carrots
(not in the box but on the list of items to get through was not quite a pound of parsnips)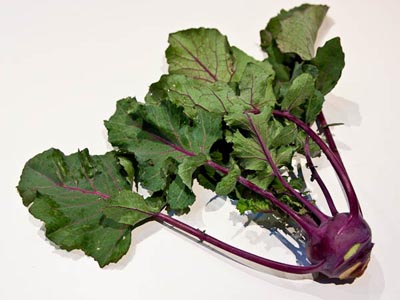 The kohlrabi and turnips were peeled, diced, and browned in a bit of oil and seasoned with salt in pepper. Both turned out to be slightly sweet and delicious.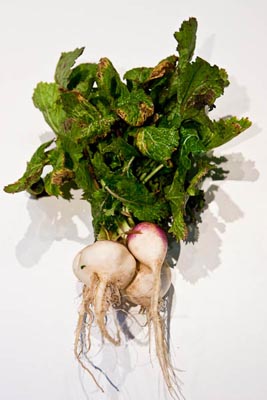 The broccoli were boiled briefly, drained, and then tossed with a bit of leftover sun-dried tomato vinaigrette. This preparation was all right, but not great. I'd likely not do this again.
The spinach and lettuce were each used simply in salads.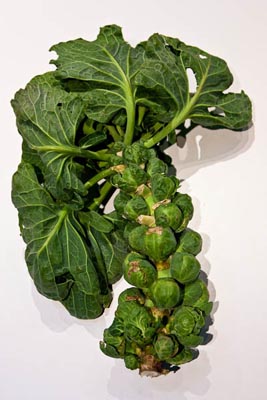 I had seen links to this Fried Brussels Sprouts recipe all over the place recently, so we gave that a shot. I made several substitutions to utilize what I had on hand as much as possible (anchovy paste for anchovies, pecans for walnuts, serrano powder for fresh serrano chile), but even so, the finished dish was tart and complex and amazingly not overwhelmed by the Brussels sprouts. Sean liked this preparation, but I think he'd have preferred a stronger Brussels sprouts flavor.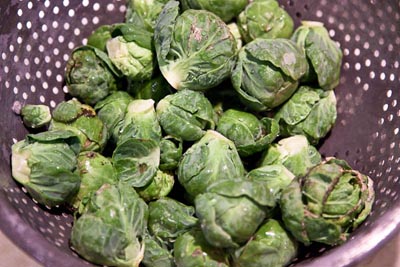 The oranges and tangerine, in combination with a few oranges I had leftover from a grocery store trip earlier in the week went to make this Orange Tarte with Orange Caramel Sauce. The tarte itself was delicious, if a little messy. The orange caramel sauce I'd make again just to dump on slices of pound cake or possible crepes or pancakes. To make the sauce, combine 2/3 cup sugar and ¼ cup water in a small, heavy saucepan. Cook over low heat till sugar dissolves, then increase the heat to medium high and boil without stirring till the syrup becomes an amber color. Add ½ cup of orange juice and ½ teaspoon grated orange zest. Be careful – the mixture will steam and bubble vigorously. Stir over lower heat till all the caramel bits dissolve. Cool completely before using.
The green garlic was worked into the dumpling dough as part of Ruhlman's Chicken and Dumplings (the tarragon and chives he called for were omitted). This was the perfect application for the green garlic; it went well with the dainty, buttery dumplings in this dish. I made good use of some of the carrots in this recipe, as well as in the poultry stock that provided the base for the chicken and dumplings. The remainder of the carrots were peeled and eaten as carrot sticks at lunchtime.
With most of the green onions, I made Chinese Scallion Pancakes using Diana Kuan's recipe. Her instructions are thorough and are accompanied with numerous photos. However, I feel that the amount of flour she called for is wildly incorrect. I had to add a fair bit more to make an even remotely workable dough. If you try this recipe, be prepared for that.
With those not-in-my-CSA-box-but-still-in-my-fridge parsnips, I made a recipe that I highly recommend, even to you died in the wool parsnip haters. It's from this recipe at Gourmet. Peel and roughly chop about a pound of parsnips. Cook them in well-salted boiling water till very tender, maybe 15 minutes or so. Drain them, then mix them in a food processor with ¼ stick of butter (2 tablespoons), ½ cup milk, and a little salt. You'll want to achieve a minimally chunky puree. I thought the aroma and flavor of this simple puree was incredible – light and sweet.
I peeled, segmented, and ate the largest of grapefruit on its own. The two smaller grapefruits were juiced and turned into Palomas. I've always seen these made with grapefruit soda (Squirt, Ting, Jarritos), but I figured soda water and fresh grapefruit juice should taste better. I mixed it at: 4 ounces grapefruit juice, 2 ounces tequila, about ½ ounce lime juice, and about 6 ounces of soda water for two drinks. I expect the rest of the world would rather it be a little sweeter. For that I would recommend adding maybe ½ teaspoon to a full teaspoon of white sugar and stirring to dissolve. I'm really not much of a bartender though, so it would be advisable to experiment with proper ratios on your own.
We're really enjoying the produce we've been getting, and the every other week model seems to be working well for us. Given that, we've decided to renew our CSA for another 4 boxes. As the weather warms, it'll be exciting to see how the box contents change.