We picked up our second CSA box not long after the Hill Country had undergone a particularly vicious freeze (vicious for Texas, that is). To be honest, I figured it'd be a little light this week, and there was even an apology note from the supplier, Johnson's Backyard Garden, to that affect tucked in amongst the produce. That said, I felt like we got every bit the content we did last time, and maybe even a little more. An added bonus – there was a pile of organic citrus from G and S Groves as well.
Box Contents:
1 bunch green garlic
several little broccoli (about 9 ounces total)
small bunch of radishes
4 variously sized sweet potatoes (not quite a pound and a half)
1 bunch of greens (kale according to the list)
1 head of greens (bok choy, though it looks different than any bok choy I've seen)
big bunch of very pretty carrots (about two pounds after the greens were removed)
3 small heads of lettuce (about a half pound total)
2 grapefruit
2 large oranges
2 small oranges
1 tangerine
(not in the box but on the list of items to get through was about two pounds of kohlrabi from a friend of ours)
The grapefruit were incredible. We ate them as they were, sliced in half, segments dug out with a spoon. Sean cut the bitterness a tad by sprinkling his halves with sugar before diving in.
The kohlrabi were eaten right away. I peeled the whole mess of them and then diced them up and sauteed them till tender and golden brown. Toward the end of the cooking time, I added in about half the green garlic and a healthy pat of butter. I know a lot of people prefer kohlrabi raw (and I like them that way too), but this way is pretty darned tasty as well.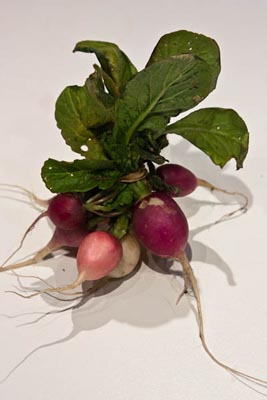 Given the several days of hard freeze (it apparently was as low as 10 degrees (F) at the farm) we had the week before we were to receive this box, the lettuces were looking a bit worse for wear (though still delicious), so we ate those next in a salad that also featured thin slivers of the pretty radishes.
We peeled and ate the oranges and tangerine on their own. Bits of them were a little dry and strange, but the bits that weren't were delicious.
One day for lunch, I cooked the kale as follows. First, I cut a couple thick-sliced slabs of pancetta into batons and fried. After moving these to a towel-lined plate to drain, I removed all but maybe a tablespoon or so of the rendered fat. To this I added a quarter cup of chopped onion and sauteed till translucent. Then I added the kale which I had de-ribbed and cut into roughly ½-inch-thick strips. Once this was at a good sizzle, I added some chicken broth and a splash or two of red wine vinegar and covered for a few minutes. Once the kale was tender but not mushy, I removed the lid from the pan and cooked off the excess liquid. Then I returned the pancetta to the kale mixture to reheat and tossed the entire mess with some whole wheat rotini and a dash of olive oil. It was topped with some shaved parmesan before serving.
With our head of bok choy and the remainder of our green garlic, we made an old standard at our house: Steak, Shiitake, and Bok Choy Stir Fry, a recipe culled from the December 2005 issue of Cooking Light. If you have solid knife skills, this recipe comes together pretty fast. The flavor is rich and meaty and it's sports a good array of variously textured vegetables. We made it this time with pork instead of steak and it turned out wonderfully. Served over udon noodles or rice, this recipe serves four easily.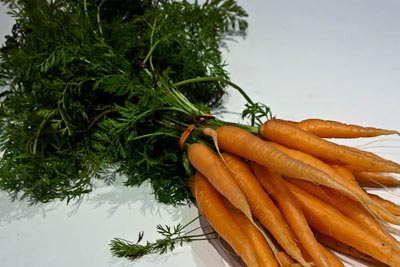 Some of our beautiful carrots were simply peeled and eaten. The rest were used in the Carrot Garlic Soup I wrote about earlier this week.
Sweet potatoes are one of those things I expect to be able to store for a period of time. I have a dark, dry, not too hot cabinet that is generally perfect for holding potatoes and onions and garlic, but my sweet potatoes this time got a bit dried out. Next time, I'll try storing them in the refrigerator instead to see what happens. With my sweet potatoes, I attempted to make a simple pureed soup. I cooked some chopped onion in oil till it was soft, then added sweet potatoes and sauteed them till they were just beginning to brown a bit. Then I added about 3 cups of liquid (half chicken stock, half water), pepper, 1 tablespoon brown sugar, a couple teaspoons of curry powder, and the tiniest bit of chipotle in adobo for heat and pureed the whole mess. After some flavor tweaking with a bit of apple cider vinegar and some salt, the soup was presentable.
The broccoli were prepared the same way I always cook broccoli (I know, I need to branch out on this one).
Except for having to trim off some dessicated spots from my sweet potatoes, we wound up with very little waste from this box. Hopefully that trend will continue.